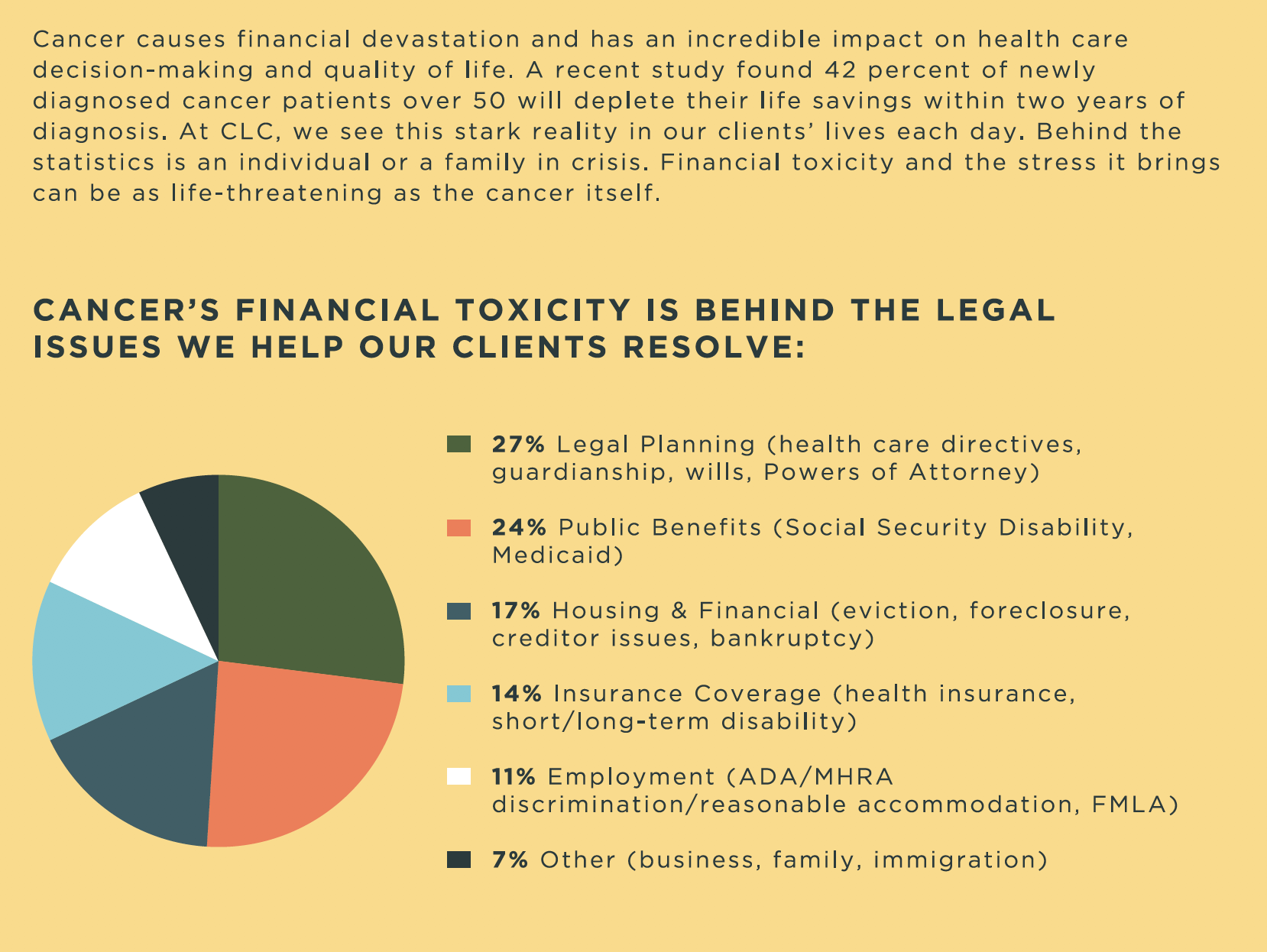 Every year, nearly 30,000 new cases of cancer are diagnosed and 9,100 people die from cancer in Minnesota. There are over 263,330 cancer survivors living in Minnesota.
The financial toll cancer takes on these families is daunting.
Cancer's financial toxicity remains the driving force behind our clients' need for legal care for three key reasons:
(1)   they simply don't have the financial ability to pay for a lawyer's help, especially in the realm of estate planning at end of life,
(2)   the financial freefall they are facing as a result of their cancer is something a lawyer can assist in turning around by helping to preserve employment or secure disability benefits, and finally,
(3)   sometimes legal care makes medical care possible by overturning wrongful insurance coverage denials and successfully navigating the immigration laws so that a brother is able to travel to the U.S. and donate bone marrow to his sister.
In light of the following statistics, it is easy to understand how many Minnesotans are unable to afford to pay for a lawyer's help for the legal issues that arise because of their diagnosis and threaten the well-being and peace of mind. 
The health impact of financial toxicity is real:
Behind each one of these numbers is a person or a family in crisis:
Where to turn when insurance coverage for a medical procedure is denied?
What to do when you have used up all of your FMLA leave but you are still not well enough to return to work?
How to file an appeal for a Social Security Disability denial and how to survive financially when the wait for a hearing is over one year?
How can a mother in hospice care plan and provide for the future care of her minor children?
After receiving legal care, our clients say:
I believe that you saved my job. HR told me I would not be able to be out longer. I did exactly as you said. My employer reviewed my form and granted me additional leave under the ADA. Thank you so much.

This has been a blessing. No one else could explain it to me. You have finally explained it to me in a way I can understand.

You have been SO MUCH help! I have been stewing about all of this and didn't know what to do.
You have been very helpful. This process is extremely overwhelming. I have never lived day to day until now. I wish I had called you a long time ago.
Thanks to Cancer Legal Care's generous donors, we are able to provide the legal care and information so many need.