Angela Fralish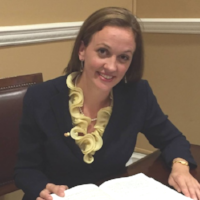 Angela is originally from the South where she began volunteering at the age of 5 and never looked back. Having an innate passion and desire to help anyone or anything in need, she spent 9 years volunteering in the community while working as a paralegal and part-time in physical therapy. She attended law school with a dream of serving the public.
During law school she attended a conference where she first learned about Medical Legal Partnerships (MLPs). She knew that MLPs were an amazing opportunity to help people in need as a lawyer and bridge her interests in volunteerism, patient care and law. Angela dove in head first by initiating a Medical Legal Partnership for domestic violence victims in her local community as a Presidential Scholar. She then worked to fully integrate a Medical Legal Partnership and wrote a 50 page thesis paper on development of rural MLPs. In her 3L year Angela researched and promoted MLPs as a guest writer for the Minnesota Journal of Law, Science and Technology to draw attention to financial resources available for MLPs to specifically help homebound clients such as cancer patients and the elderly.
After graduation Angela completed an academic fellowship at the University of Minnesota in pediatric healthcare device development and is now working at Planet Pharma. She is very grateful and honored to be a member of Cancer Legal Care, where she can continue to help the local community.