Chris Heffelbower - Senior Staff Attorney and Partnership Ambassador (In Memoriam)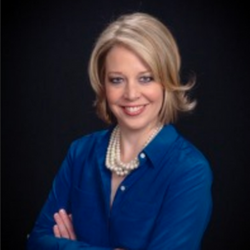 Chris Heffelbower was a vibrant, energetic, and transformational presence at Cancer Legal Care. Chris came to us as a volunteer attorney after she had completed her first round of grueling cancer treatment for colon cancer, determined to make a difference in the lives of others. She did that...and then some.
We soon realized that we had a tiger by the tail and were thrilled when Chris came on staff as our Senior Staff Attorney and Partnership Ambassador. Chris provided life changing legal care to clients facing employment and Social Security issues, supervised our law school interns, and helped widen the circle of Cancer Legal Care love.
Our enduring image of Chris is of her handing her Cancer Legal Care business card to her doctor during one of her all-too-often hospital visits and telling him, "Get me better soon. I have to get back to doing this work!" That was pure Chris--selfless, determined, and always positive.
Chris died of colon cancer on June 3, 2015 at the age of 40. Chris is survived by her husband Adam, their two young daughters, and a legion of family and friends. Chris brought a lot of magic to our work and our days...something we liked to call "The Heffelbower Effect." We will carry on with the work that meant so much to Chris, forever grateful for the imprint she made on our mission and in our hearts.
To help carry on the work that meant so much, Chris' friends and family have created a fund to support the Heffelbower Fellowship, an opportunity for a law student or graduate program student to apply their academic pursuits in combination with the mission of Cancer Legal Care to engage the law to resolve the complex challenges facing people and communities affected by cancer.