Clients often tell us that they have been worrying about things beyond their treatment, but didn't know where to turn for answers. That's where Cancer Legal Care can help.
At Cancer Legal Care, we know that the financial and legal issues a cancer patient faces can be as devastating as the cancer diagnosis itself. 
Our mission is to engage the law to resolve the complex challenges facing people and communities affected by cancer. We do this by providing free legal care and education to Minnesotans affected by cancer, for the legal issues they face that directly impact their health and quality of life. 
Since 2007, our staff and volunteer attorneys have provided free direct legal care services and educational outreach valued at over $18,800,000. We have helped over 13,000 Minnesotans with legal issues stemming from their cancer diagnosis and treatment—the disability, employment, estate planning, financial, and insurance issues that weigh so heavily on their hearts and minds. We provide this help through our Legal Care Program, which includes our ICARE Program (Insurance Claim Advocacy and Resolution)
Cancer Legal Care's unique model utilizes staff and volunteer attorneys to serve people affected by any cancer, at any time from diagnosis on, residing anywhere in the state, on a wide variety of civil legal issues. Increasingly, cancer's financial toxicity negatively affects patients' survivorship. Legal care is one way to help turn those situations around for clients at a challenging time in their lives.
---
We help clients with their cancer-related legal issues: disability, employment, estate planning, financial, and insurance issues.
Our services are open to anyone in Minnesota in need, regardless of cancer type, stage, county, age, or income.

Our services are always free and confidential (note: free estate planning is based on income guidelines).

Most of our clients need just one or two calls with our lawyers to answer their questions.

For those who need more legal care, we may be able to help, or we may connect them with one of our 75+ volunteer lawyers throughout the state.

If we're not the right place to help, we connect them with other organizations and resources.
We also provide legal information, education, and outreach services throughout Minnesota. 
---
Cancer's Financial Toxicity: The Reality and CLC's Response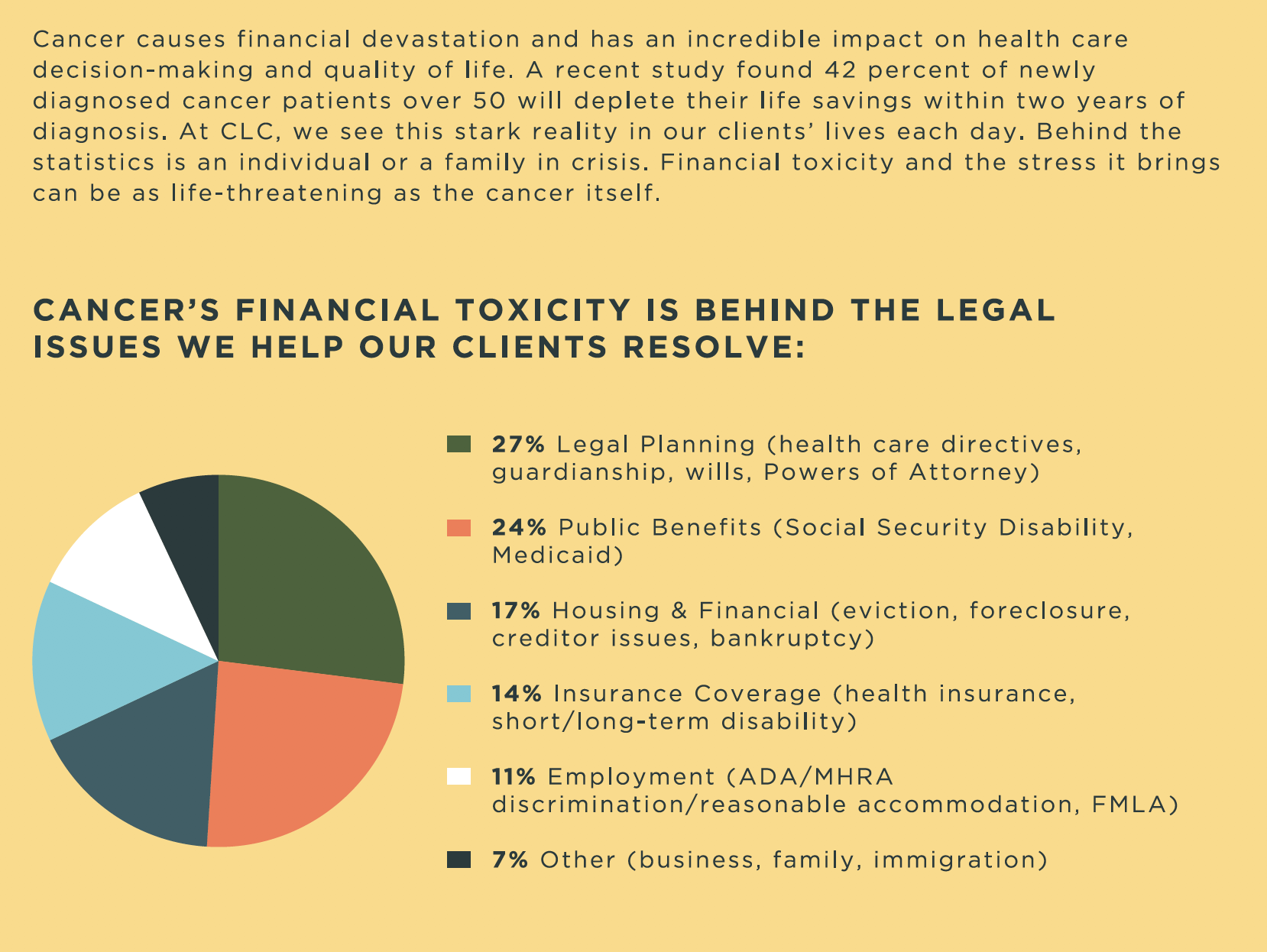 ---