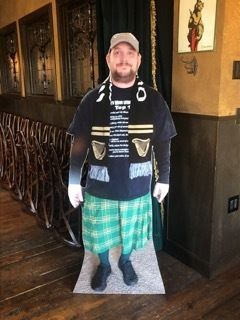 In 2021, Nan and Mark lost their son Tim, a Cancer Legal Care client, to kidney cancer. They wanted to share a bit of Tim's story.
Here's Nan and Mark:
"Tim was born on October 23rd, 1979 and sadly passed away on June 17th, 2021. He graduated from Academy of Holy Angels in 1998. After college, Tim's passion for people and service drove him to the hospitality business where he was extremely successful in a space important to him, leading him to O'Brien's Public House and HyVee. 
Tim was a simple person. A 'less is more' type of a guy. Tim loved helping people, having fun and making sure everyone else was having fun. Even when he was so sick, he would crack a joke or do something to make us laugh. 
In 2020, what we all thought was just fatigue from working so hard turned out to be advanced kidney cancer. Tim needed our help to navigate not only the health care system, but also financial and legal systems. So, we reached out to Cancer Legal Care (CLC) to explore Tim's options. We learned a lot.
Not only did CLC help us with legal advice, but they also educated us on how to quickly get Tim qualified for Social Security Disability Insurance (SSDI). The team at CLC was extremely knowledgeable, friendly, caring and accommodating. They knew the answers before we asked our questions, and they knew what to do and how to go about it. 
That expertise was comforting, especially knowing that CLC had done this before.
Tim served at O'Brien's Public House, which he absolutely loved. He had many regular customers and Tim knew what each customer wanted to drink. He knew people had hard, long days and he wanted to help each of them end their day on a positive note. He truly enjoyed cheering people up. Tim's employers, co-workers and customers helped support Tim throughout his cancer care. Their kindness, love and support truly gave Tim a purpose. 
Shortly before we lost Tim, The Minnesota Lions Club awarded Tim The Helen Keller Sight Award in recognition of Tim's volunteering within his community. This award meant a lot to Tim. He was very proud of his accomplishments.  
When we learned that Tim could not beat his cancer, we had discussions about what he wanted to do with the memorials given in his name. Tim had a great experience with CLC and loved helping people, so he said, 'I want memorials donated to Cancer Legal Care so they can continue to help people like me'. 
The night before Tim passed, O'Brien's Public House hosted a party/fundraiser for CLC. Tim really wanted to attend. However, he was too sick, so Nan went on his behalf. It was amazing how many people attended. You could hardly get through the crowd. O'Brien's hosted a wonderful event and solicited local businesses to donate items for the silent auction. All proceeds went to CLC so they can continue to help people like Tim.
You'll see in the photo that Tim had a six-foot cutout of himself made in his St. Patrick's Day outfit. He was so funny. One day laying in his hospice bed he said, 'Hey Mom, what do you think about a six-foot cutout of myself? I want it at my fundraiser and my Celebration of Life. I want people to have fun and take selfies next to me!' And Nan said, "Uh, that's really nontraditional Tim, I am not going with it— it's way out there". Two days later he enthusiastically said, 'Hey Mom, the six-foot cutout of me is currently being made.' Tim's cutout of himself was a huge hit and Tim got what he wanted: people having fun and taking selfies with him. 
We're telling this story to encourage more people to donate to CLC's work and to reach out if they need help because it's what Tim would have wanted. CLC is all about helping others, free of charge and to us and Tim, that's wonderful. We know CLC advises people in Tim's situation.  We also know that there are literally millions of people who could use CLC's assistance.
Cancer Legal Care helps cancer patients navigate through a lot of challenges— whether it's health care, legal and/or transportation. The legal part of Cancer Legal Care was wonderful but we got so much more out of it, including wonderful verbal and emotional support. Just talking with professionals, trusted advisors that have been down this road with many others in Tim's situation was so comforting."
Nan and Mark Remme
(Tim's parents)