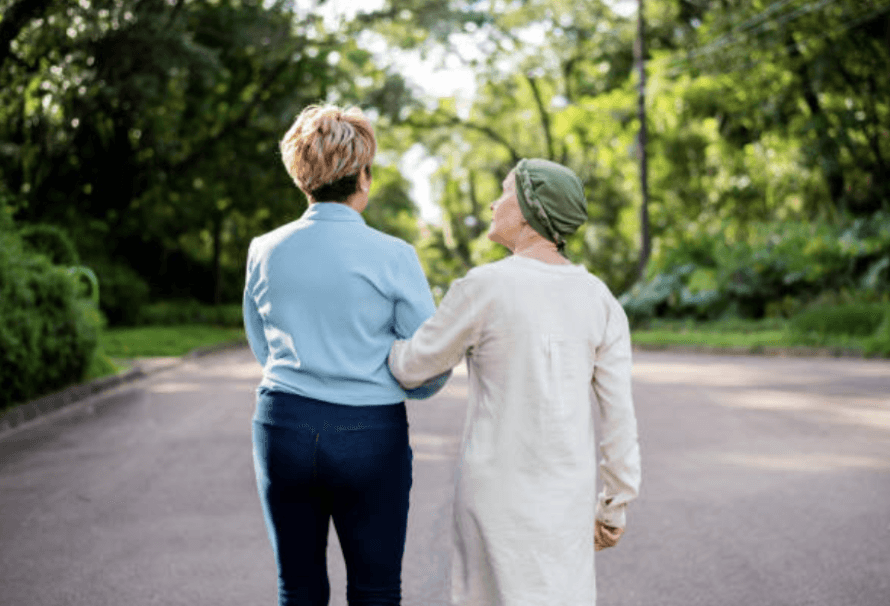 "It's entirely possible in the course of this call that I'll cry.
My sister got sick with brain cancer and went five months without income. She should have had long-term disability benefits paid to her every month during that time, but the financial company holding them said 'We need certain records, and we need you to answer questions regarding your functional impairments.'
But my sister was so incapacitated from her brain cancer and subsequent treatments that she couldn't respond to the financial company's outreach attempts. Understandably so: she had a tumor in her brain surgically removed, along with radiation and chemo treatments. She was suffering from what she called her 'radiation brain': she couldn't remember how to log into her email, couldn't remember passwords to her tablet, couldn't remember how to check her voicemail.
My sister was on an island with limited access to anyone who could advocate for her. At this point, she was really desperate for money. Her family ended up being financially supported by GoFundMe donations and family members, and we just kept blasting the GoFundMe link across Facebook. Think about it from her perspective: withering away there, watching things dwindle down, and asking for help from family and friends, KNOWING she was entitled to this money but that she couldn't get to it.
My other sister and I were her medical and financial power of attorneys, so I was also reaching out to the financial company to get them to stop going to her directly and to contact me instead. We needed to get her benefits going. I was trying to work with the guy who was calling himself her 'financial advocate' to get him what the company needed to start her benefits, but he wouldn't respond to me at all. After weeks of this I got his supervisor's name and left messages for him, too—crying, pleading, trying not to berate him for their terrible customer service, but I got no response. It was a nightmare. They just wouldn't collaborate with me.
When our social worker said, 'You could try Cancer Legal Care. Then there'd be an attorney involved,' I thought, 'I'm pretty capable of fighting with systems but this one is clearly out of my scope. So I don't know what CLC can do, but I just need an advocate.' My sister needed any and all people I could pull into her arsenal.
I called and left a tearful voicemail on a Saturday, and Rachel called back on Monday morning, I swear to God, it must have been 8 or 9am. I turned on my phone and was stunned to see a voicemail like 'Boom, here comes Rachel.'
We tapped Rachel in and she was instantly elbow-to-elbow with me and my sister. She was a legit ally who took the info I shared with her and reached out to the financial company directly. I remember Rachel saying something like, 'I'm throwing my name and my title behind this.' It instantly legitimized our team's effort to help my sister out and it seemed to wake the financial company up.
Rachel's approach and communication felt like it was trauma-informed, which was great. She talked to me like a human being that she cared about. She took the time to carefully word her questions. She acknowledged that there's a human here who's clearly struggling, and her approach made clear that it wasn't just about business for her. It was touching.
I felt really supported by Rachel. It was incredible to know I had help. I knew she'd help my sister in whatever way she could, but I also didn't have any other help in this process. We lobbed it over into Rachel's lap and that took a huge load off of my shoulders so I could be a supportive sister, not an advocate or benefits wrestler.
Within a month of asking for help from Cancer Legal Care, the benefits were turned on and she ended up getting back pay. That was a turning point in my sister's functioning. She got more engaged and hopeful about her recovery. She was relieved to have an income and had a little more faith. It made a huge difference.
To potential clients, I'd say: the answer is always 'no' until you ask for help. When in doubt, just ask. It's okay to cry while you ask.
The word about Cancer Legal Care that keeps going through my mind is 'allyship.' When you're this vulnerable, you want to reach out for any and all allies you can find. When you're dealing with cancer, should you also be dealing with all of the logistics that should be handled by a legal expert? Why not tap out and get someone in there who can help do it for you?
To potential donors: thank you for even considering donating to CLC. It makes me weak in the knees to know that people are even rolling it around in their minds.
I'm sure the people who donate have no idea how much they took off my shoulders during that time, or how much relief my sister got from having her benefits turned back on. I feel like people think, 'Oh they're fighting cancer and that's their only fight' but there's so much other hard work buried under that.
I don't think our family thought that my sister would fall into the hole she fell into, because we thought of cancer as a medical condition. But you don't think about all of the other social determinants of health it'll mess up. 'Will I lose my housing now? Am I going to lose my car?' All of these other things. She was the primary source of income for their family and that's not a stress that a person recovering from cancer needs to have on their plate.
You have no idea how much help you could give someone by just chipping in.